Beyond the board --- Interdisciplinary Art

艺术评论 Thesis 2012
The development of a single subject faces deadlock when its theory and practice tend towards static integrity. In other words, when a subject tends towards perfection, it becomes hard to break through from its own internal system. At this point, crossovers between different branches of religion, science, humanities and daily practices are commonly used, become a popular tendency, using the language which not belong themselves may cause some "chemical reaction". Most deadlocks would become a new starting point that would lead to a new level.
The crossroads of science (cutting-edge technology) and contemporary art is becoming ever more populated while at the same time increasing in complexity. The use of scientific language in the art world has become commonplace and an array of new types of art works appear, including Digital, Interactive, or Bio-Art. There is an increase of Electronic art festivals being held across a global platform, Ars Electronica in Austria is a good example. While a number of scientific organizations such as CERN in Switzerland are beginning to offer residence opportunities to artists.
The increasing coexistence of science and art practice brings about new possibilities of art works that start to challenge existing aesthetic critical theory of developed art practices. Artistic identity will at the same time also develop multiple characteristics.
Many and varied art institutions are faced with the change and inherent challenges. Compared with art works utilizing traditional media such as canvas or screen, new media art works are not so stable. Bio-art for example often needs specific exhibition conditions, whereas Interactive art may need a high degree of professional service in exhibition environments. These new requirements force museums to face the issue of how to present and collect these new-media works.
Art education institutions similarly face these changes. Many New-media departments are appearing in art colleges around the world, and technology education take an ever more significant position. In the example of Chinese art education, the majority of art colleges in China are beginning to found New-media departments. During the previous decade many are jumping past basic, what could be referred to as traditional art training, directly into the crossover area. As an artist educated in such a new media department I will share my direct understanding of this education shift.
Art interdisciplinary practice now goes beyond the traditional aesthetic understandings, leading to the change in art criticism, the identity of artists and of art institutions. I will analyze the interaction of science in art from the following 4 perspectives:
Art practice: illustrated by Electronic art, Bio art, Micrograph and Art treatment.
Art criticism: the challenge to theory and change of a greater aesthetic taste.
Artistic multiple identity
Art institution: Museums, Scientific Residency, Art College.
Section 1 Illustrated by the Present Situation about Art Practice
——The Direct Effect of New Technology Intervention to Art Practice
The involvement of science and technology has fuzzed up the range between art and lots of other subject. Such as art and game, art and robot technique, art and biochemistry, etc.
Artists have sensitive nerve for novelty. They boldly use the language of other subjects for cross- border creation and also suffer a lot of controversy at the same time, for example, Bio-art takes the part of moral principles issues. Lots of art works using very attractive cutting-aged technique are high frequency exhibiting in many big art exhibitions around world, attracting audiences immediately, and won countless applause. Many new art forms emerge in recent decades with lots of following electronic art festivals of which both have the bad and good intermingled.
In this section, I will illustrate some new types of art works that is worth to pay attention to.
1.1 Electronic art
Electronic art is the major proportion of interdisciplinary art. "Electronic Art is art which makes use of electronic media or, more broadly, refers to technology and/or electronic media. It is related to Information art, Video art, Interactive art, Internet art, and Electronic music, among others… Electronic art has a much broader connotation, referring to artworks that include any type of electronic…It is an interdisciplinary field; artists often collaborate with scientists and engineers when creating their works." [1]
Electronic art has a high occurrence rate in the art exhibitions in recent years. It has many branches, like Interactive art, digital art, etc. Especially, Interactive art gets the most public attention. "Interactive art is a genre of art in which the viewers participate in some way by providing an input in order to determine the outcome. Unlike traditional art forms wherein the interaction of the spectator is merely a mental event, interactivity allows for various types of navigation, assembly, and/or contribution to an artwork, which goes far beyond purely psychological activity." [2]
Interactive art realized the interactive communication between art works and audiences, which is also the shortcoming of traditional art form. Interactive art can make audiences truly enter the interactive 3D-virtual environment created by computer, and interacting with the works.
Taking one Chinese interactive artist, Feng Mengbo, as example, he has been walking in the forefront of the Chinese contemporary artists in interactivity area. He started to create interactive art works by using the conception and technique from computer and video game from 90s.
His most representative works is "Long March"[3] showed in Guangzhou Triennial in 2008, which is a multimedia interactive installation based on live game, mixing with the elements from the video game and the symbols from MAO Red-age.
The installation was installed on scroll forms based on a fighting game structure, whose roles were displaced by Red Guarders, Coca Cola, American rockets and etc. Each of these symbols represents a certain age. The roles move freely in the expanding long scroll, the audiences should run quickly to catch up with the roles because of the huge size of the exhibition space and roles' speedy movement that was design on purpose. The images' pixels were enlarged ten times and formed abstract spots.
It is just on the contrary of common Video Game: roles are fixed in the range of screen and background produce relative motion. But the "Long March" made audiences rushing forward together with virtual roles, and returned the vitality of the game back to audiences.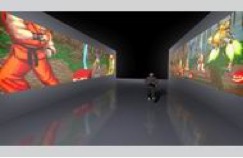 "Long March", Feng Mengbo, Guangzhou Triennial, 2008
"Long March", Feng Mengbo, Guangzhou Triennial, 2008
From the early 1990s to today, Feng Mengbo experienced the process of electronic art change from non-mainstream to mainstream. He said "Think back to when my generation of artists began to explore with computers and electronic technology as media, the aim was to get rid of an established mainstream system and played for uncompromising free. "
During the previous decade, these electronic arts itinerates in many art Biennial and Triennial, which brings great public attention to these exhibitions. Take Shanghai Biennial "Hyper Design" at 2006 as an example: complies with the theme "Hyper Design", amounts of art works with high-tech participated in the exhibition. It had been a great success and got a lot attention, in which, the electronic art works contributed a big part.
The flourish of electronic art works also brings an increase of electronic art festivals being held across a global platform. The best example is ARS Electronica, in Linz, Austria, organized yearly since 1979, which is regarded as the highest exhibition of Electronic art in the world. Particularly need to mention is the Dutch Electronic Art Festival (www.deaf.nl)-DEAF. Its sponsor is V2_(Institute for the Unstable Media), which was founded in 1981 and could be a veteran around the new electronic art festivals. The DEAF at 2007, with the theme of "Interact or Die!", had a Special Focus "China Program", which was A special China-conference dealing with the position and current developments in cutting-edge Chinese electronic art. So, Chinese artists and audiences have always paid lots attention to the DEAF.
1.2 Bio-Art
Bio-Art is a very prominent branch among new interdisciplinary arts. Bio-Art is an art practice researching on b

iological
tissue, bacteria, living body and life process. Artists make Bio-art works with the help of biotechnology, such as Genetic Engineering, Biological Tissue culture technology, Cloning, etc in laboratory, gallery or artist's studio.
Life process and structure have always inspired artists over the centuries, but until the last 20 years, artists began to formally cooperate with biologists. And they created works, which used tissues from humans, and other animals, bacteria, even the living organisms.
Compared with other art works Involved with science and technology, Bio-Art has two prominent characteristics: process and controversy.
The Process refers to the fact that the state of Bio-art is often in the process. It is not usual accord with common visual art, which end with an artistic conclusion, but is closer to the laboratory and scientific research process.
The Controversy comes from both science and society. Bio-Art involved the problem between science and moral, etc, and its no more than 20 years' short history has always been in controversy. But if we look from another angle, the public controversy actually is the main energy and motion for the development of Bio-Art and even can be interpreted as the primary purpose of Bio-Art.
The Pioneers of Bio-Art include Andrew Krasnow (Representative works is "Flag", 1990), Eduardo Kac, Oron Catts, etc. Take Cypriot-Australian artist Stelarc for example, he is one of the later pioneers of Bio-Art and his works have been of great controversy. Stelarc was the pioneer of performance art, and later, his works gradually extended to artificial intelligence and the extension of body based on the biotechnology. In the mid 90s, his work "Third Hand" involved about network and nerve-control, as well as conditioned reflex and representation of the body function. His recent work "Ear On Arm" became the focus of public discussion: The Performance Art in which artists transforming their bodies and New-media Art in which use the language of science are converged in this work.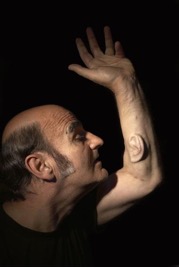 Stelarc, "Ear On Arm", 2007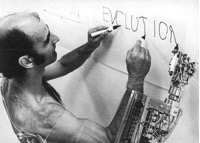 Stelarc, "Third Hand", 1981 – 1994
But, as I mentioned before, Bio-art cannot be progressed at any time or place because of the limitation of professional condition and technology. However, the high public attention lead by the controversy of Bio-Art makes many artists start to try to get close to Bio-Art. As a result, a large number of "spurious Bio-Art" starts to appear. For instance, in my opinion, the Belgium artist Martin uit den Bogaard's works shouldn't be counted in Bio-art from technological point.
His works have exhibited in Kemzeke of Verbeke Foundation (http://www.verbekefoundation.com/), in Belgium at Match 2011. I visited this show and I was scared when I entered the exhibiting space: the light was gloomy, the strange screaming was all around, and the misshaped carcasses of animals and the weird instruments were installed inside the space. This series of art works is to explore the relationship between life and death. Many of his works have a common set: a cable connected the carcasses of animals and the instrument with a screen, and with a sound of breathing. With the changing of the sound, the ripple data changed on the screen. They really made me thought there were some interactions between the carcasses and the instrument, but later, it was proved to be no: the instrument and the carcasses just lying, the sound and the data on screen were fabricated in advance. In another word, they are just installations using carcasses as material, but to shock the public directly and get as more attention as possible is the real intention.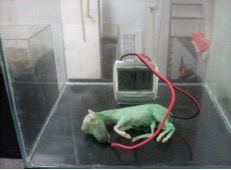 Martin uit den Bogaard, Chemical manipulated horse-foetus, 2011
1.3 Micrograph
Micrograph is a photograph or digital image taken through a microscope or similar device to show a magnified image of an item.
The birth of this new art form is direct based on the technology development. Its' developing is closely related to the development of microscopy. When the common things around us are enlarged many times by microscope, they will have stunning visual effects and give audiences completely new experience.
The rise of micrograph can be seen as the return of the painting, whose composition and color are tending to generally limit inside the post-modern painting or abstract painting. Because the object in micrograph cannot be changed, which is the common point with documentary photography.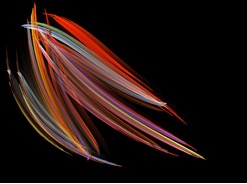 Pleurosigma(marine diatoms)(200X), Darkfield and Polarized Light, 1st Place of 2008,
The Nikon International Small World Competition, by Michael Stringer.
But it is noticeable that because of the limitation on professional equipment and techniques, the creators of micrograph arts are majority not artists, but the scientists or scientific institutions, even the commercial organizations. We can see the artistic identity of "artists" will develops multiple characteristics, which I will discuss later at Section 3.
For example, the leading showcase on micrograph is offer by Nikon Company, named the Nikon International Small World Competition (http://www.nikonsmallworld.com/). It first began in 1974 as a means to recognize and applaud the efforts of those involved with photography through the light microscope from the widest array of scientific disciplines. I found it is interesting that none of the jury in this competition is artist.
Another interesting example is BevShots Alcohol Company (http://www.bevshots.com ), which ask for the department of Chemistry in Florida State University using of high-tech laboratory microscope magnification up alcohol into 1000 times. And with these micrographs, BevShots open a gallery and sell the prints as fine arts piece to their customers.
This is their sale manifesto: "BevShots are posh prints of beers, wines and cocktails photographed under a microscope and featured as modern art. An intoxicating blend of art and science, BevShots' vibrant colors and distinctive patterns bring an edgy element to any room. BevShots easily mix in with today's trends in abstract décor. As the ultimate conversation piece, BevShots make the perfect splurge for yourself or a truly unique gift for friends and family. With prices starting at just $24.99, contemporary art has never been more affordable."
According to these examples, we can see the interdisciplinary of art practice are also leading the interdisciplinary of artists and institutions.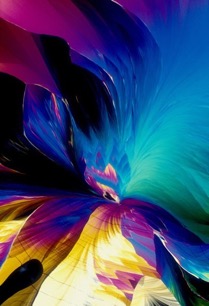 1.4 Art Treatment
Compared with other interdisciplinary art works, Art treatment psychology has a relatively longer history. "Art therapy first began around the mid-20th Century, arising independently in English-speaking and European areas. In England, as in the U.S, the roots of art therapy lay mainly in art education, the practice of art, and developmental psychology [4]." But we can notice that even Art Treatment lasted more than half century, but the public is rarely noticed the art works from Art Treatment. Because these art works have been considered as Outsider Art, which refers to the artworks created outside the boundaries of official culture.
The relation between Art Treatment and Outsider Art has been debated in many academic discussions. Both of them have been criticized because of their social and personal impact on both patients and artists. Art Treatment has been considered of not putting professional emphasis on the artistic value and is not the productions of the artist, but only from patients. This led to the misconception of the whole outsider art practice, while addressing therapeutically issues within the field of aesthetical discussion. Outsider Art, on the contrary, has been negatively judged because of the labeling of the artists' work.
Recently, with many artists start to create works based on Art treatment, This controversy about how to judge the Art treatment works has recently began to return to people's attention. But these artists are doing it in different way: They are usually in a position of organizer in the art project, while the direct creators (patients) of Art Treatment works became the new media instead of consider as artists, which I think is the most interesting but controversial element on these art projects.
Taking Chinese artist Guo Haiping's work "Demented Art" as illustration. In 2006, the artist Guo Haiping attempted a test: he applied to live three months in a Mental hospital in Nanjing, called the "Nanjing Zhu Tangshan mental hospital". During this period, he lived together with patients and teaches them paintings and ceramic. A lot of patients have shown an amazing talent on color, form and space in their works.
At 2007, Guo Haiping held his solo exhibition named "Demented Art" in Beijing 798 Art-area, showing 100 artworks made by patients. And the attentions, which were both from public and critics, were almost all focused on the project itself that was more considered as a experiment or performance, but not on the artworks themselves. The direct creators (patients) still have no position but just one of new media.
"While the Outsider Artist is part of a specific Art System, which can add a positive value to both the artist's work as well as his personal development, it can also imprison him within the boundaries of the system itself"[5].
The poster of "Demented Art"
,2007
Art is not a purely rational discipline, which emphasizes the unique self-imagined and beyond normal daily experience, outstanding creation of art is primarily from the subconscious and the surreal experience, which is precisely the most active parts of "mental illness people".
-----The current interdisciplinary art practice has brought art new languages, which is changing the existent art criticism
From the illustrations I mentioned in Section 1, we can see nowadays art has gradually extended to all areas, such as games, biochemistry, therapy, etc, with the change of materials and the media.
Clement Greenberg [7] has ever explained the "self-critic" from Kantianism in his essay "Modernist Painting" [8], which means: each subject has its own evaluation system, because they have their own language. According to Greenberg, art should be always evaluated by artistic standard or methods rather than the standards from other discipline. His statement was used in the field of painting when this essay was published at 1960s, starting from the two-dimensional peculiarity of painting, to exclude the possibility that painting learning from other art media or be learned by other art media, so that the painting becomes more pure [9].
After nearly half century, now, the "self-critic" has already been expanded from the relationship between different media of art to the relationship between art and other disciplines.
2.1 Challenge for critics and curators.
As I illustrated in Section 1, new interdisciplinary art works using very attractive cutting-aged technique are high frequency exhibiting in many big art exhibitions around world, and won countless applause, attracting audiences immediately. Some of new interdisciplinary arts are both nice in concept and tech. But there are still a large proportion of these works using poor concept, if we look through these glaring scientific skin, you might find out. For example, at Ars Electronica 2011[10], The opening performance by Tesla Orchestra (a musician team from America) got big success (http://www.youtube.com/watch?v=-oYjW9maTkA&feature=related). But it is not hard to find that the dancer inside is just there for 'visual demonstration' and the music would still play the same without him. This performance borrowed the stunt, which the American scientist Nikola Tesla already played before at Chicago World Expo, 1893. Like American artist Sol Lewitt [11] said before: "Banal ideas cannot be rescued by beautiful execution"[12].
So, how to judge an interdisciplinary art works in an appropriate way? If art critics and curators should be more specifically in one interdisciplinary area and need to understand the technology behind the art works, so as to better understand and comment the conception of art works? Or, should they still holding the "self-critic" principle and exclude the interdisciplinary art works as Outsider art [4]?
As the rise of interdisciplinary art, the status of curators and critics is getting challenging. For example, as I mentioned in Section 1, none of the jury in Nikon International Small World Competition for micrograph-art is art critic or curator: they are excluded out.
The position of curators and critics also becomes confused nowadays on the new interdisciplinary art. The public and artists are both in the some round at beginning. The curators and critics pick up artists, put them into museums, making public and artists into different groups. But the artists are original from society,the curators and critics is the one to make artists unique in order to make money from this system. Now, the biggest challenge for art critics or curators is from social network, which make the artists and public can connecting and communicating any moments: they are becoming in one round again. So the curators and critics can't stay in the middle of public and artists anymore, they also try to jump into them: they become Facebook friends, join the debate in blog, etc. And the online galleries' rising up also makes the curators and critics getting more and more are confused because if in the future we do more things in Internet or online galleries, the demanding of real galleries and museums will become less, especially The big influence of the blog makes the opinions of art critics become less important than before.
2.2 The development of modern technology has been affecting the public attention and their ways of thinking. This change will influence the people's aesthetic taste and the artists' creating.
The development of technology involves not only our daily life, but also our brains. The first obvious example is the invention of measuring, timing and positioning tool, such as horologes, compass and so on. They all have weakened human's direct perception on nature.
For instance, before the horologes were invented, people judged time by observing the color changing of sky, and directly perceive it by the changing of nature and their own body. And they arranged the activities based on all these changing. But after the horologes were invented, mankind broke away from the influence of natural.
The next example worth mentioning is the invention of book printing, which brought up a large number of publishers and novelists and helpful in the fight against analphabetism. As deep reading improved the ability of logic and picture association, the public's aesthetic consciousness started to rise.
The development of modern science and technology especially the popularization of the Internet has changed the public's attention and the way of thinking with a rapid speed: The information received by the human brain has been expanding, but introspective thinking tends to decline. For example, while searching for information, the information is focused on in a shorter period of time. Which means out brain is changing into an "information retrieval machine". On this issue, Cambridge-professor History Christopher Andrew did research on HASDD (Historical Attention Span Deficit Disorder), which means that we now cannot concentrate ourselves anymore on something that takes longer than an instant.
The changing attention has made the public lost the patience on the theoretical conceptual artworks they used to have. When people visit the art museums, galleries or art festivals now, they already have no patient to habituate themselves to read the small notes on the wall or focus on one artworks long time. For example, there used to be very normal to have one or two hour's film in a gallery, and everybody sits down and looks it patiently, but in nowadays people don't have patient anymore. So, if an artist makes a film now which exhibiting in gallery, maybe he will think about make a shorter piece and present in more attractive way.
Art is a reflection of the society it comes from. If the whole society becomes more super quick or shallow, the artworks will also become like this: But the research on concept could not be quicker because it is a basic element for a nice art works, while the media artists use and the way to present art works can be more fresh, quicker and attractive. Artist should make a choice now.
Section 3 Artistic identities will develop multiple characteristics
Following the development of interdisciplinary art's practice, the artistic identities will at the same time also develop multiple characteristics.
The official definition of "artist" is: "any person who creates or gives creative expression to, or 
recreates works of art, who considers his artistic creation to be an essential part of his 
life, who contributes in this way to the development of art and culture and who is or 
asks to be recognized as an artist, whether or not he is bound by any relations of 
employment or association."(By United Nations Educational,Scientific and Cultural Organization). If we consider artist is the person who creates artwork, in nowadays, the definition of "artist" will become more boarder than before.
In the area of interdisciplinary art, the technologies form other disciplines have maintained very close combination with the art. Many new-media artists try to apply a variety of new technique in artistic creation and start to cooperate with experts in other disciplines. But when the creation of an artwork is totally dependent on technology, the scientists can abandon the artists, and make their own artworks and step into the ranks of artists. For example, as I mention before, the creators of micrograph arts are majority not artists, but the scientists or scientific institutions: The following two photographs are the micrograph art works from British artist Richard Heeks and American scientist Gary Greenberg. We are hard to make judgment that which photo is art work and which photo is taken by artist: they are both artist in a certain sense.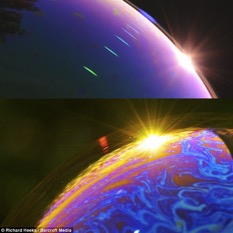 soap bubble,by Richard Heeks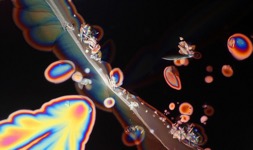 Zinfandel rose wine,by Gary Greenberg
As artists working on interdisciplinary art, familiar with the technology using into artworks become necessary, which drives new-media artists develop comprehensive. Take interactive work as an example, the requirements for interactive drives artists to consider all the possible technical details. Except technology, during the exhibitions, the interactive artists also should make sure their demands exactly: how the staff in an exhibition take care of the electronic parts, digital parts or living things in their works and how the visitors interact with their works, which force the artists need to be interface designers and experts in practical applicability.
Interdisciplinary arts also become popular tools other disciplines. With the rapid development of modern science and technology, the branch of learning is increasingly detailed, and the cutting-edge technology is becoming more and more obscure for the general public. The art created by contemporary science and technology is not only a carrier, but also the mode of transmission for scientific and technological knowledge. For example: The art works from MIT Media Lab are exhibited in world's most important art exhibitions (such as the Venice Biennale, Linz Electronic Arts Festival). It is also commercialized in promoting the development of creative industries, and also played a role in the popularization of science.
As a tool of popularization of other disciplines, art should also take the responsibilities of the side effects. For example, Bio-art takes the part of moral principles issues. Generally speaking, bio-artists only can use the technologies that biologists have already researched in the lab. These technologies have a close relationship with science, but almost quite rare to the public.
"Many experiments are happen in the lab which are unknown to public. While the Bio-Artists make these scientific experiments known, But this tends to make Bio-Artists usually get bad controversy, and easily become the scapegoat ." (by Ionatt Zurr,PHD from SymbioticA. ). To sum up, Interdisciplinary artists as the "communicator of information", how to find their positions when they are cooperate with scientists, also becomes a crucial issue.
Section 4 Institutions
4.1 Scientific residency for artists
The flourish of interdisciplinary art works brings an increase of non-art residence for artists on a global platform. There are a number of scientific organizations such as CERN start to offer the residence opportunities to artists.
The scientific residencies on electronic art are relatively in large proportion, and began earlier. For example, ISEA (International Symposium of Electronic Arts, http://01sj.org/) was found at 1995, which arms to bring artists and scientists together to explore new type of arts with new technology. At 2000, ZERO1 (The Art & Technology Network) started, which encourage on the intersection of art and technology and to produce festivals. And the 1st ZERO1 Biennial was hold at 2006, which was newest and largest digital arts biennial at North America. Two years later, the CADRE/Montalvo Artist Research Residency took the Initiative in 2008's ZERO1 Biennial.
Mention in particular, even the most famous scientific organization-CERN (European Organization for Nuclear Research)[6] also start to offer the art residence chance from this year, 2011 September, which was supersized me when I knew this news.
From 2011, CERN cooperate with Ars Electronica, found Prix Ars Electronica Collide@CERN prize. This was the first prize in digital arts offered by CERN, which encourage artists showing their wish to engage with the ideas and/or technology of particle physics or with CERN as a place of scientific collaboration, using them as springboards of the imagination which dare to go beyond the paradigm.
"Particle physics and the arts are inextricably linked: both are ways to explore our existence – what it is to be human and our place in the universe. The two fields are natural creative partners for innovation in the 21st century."—Digital arts residency announced, by CERN, 02 Sep 2011.
The first winner of this CERN digital arts prize and CERN's first artist in residence is German artist Julius von Bismarck. The jury also awarded three honorary mentions. One of the honorary mentions was given to Dutch artist Arnoud Noordegraaf who was preparing an art project of "contemporary music theatre" related to the theory of quantum physics. I had an interview with Arnoud Noordegraaf about his project and how is his direct feeling on art Interdisciplinary. For particulars, see the attachment below this thesis.
The Bio-Art residence institutions are not many relatively, the professional ones are even less. Because Bio-Art needs some professional laboratory equipments and also needs to cooperate with the biologists. So, there are many so-called Bio-Art residence places do not meet the professional requirements. The SymbioticA (an artistic research laboratory housed co-founded by Bio-Art artist Oron Catts http://www.symbiotica.uwa.edu.au/) set up in 2000, is one of the few bio-Art residence institutions, which reach the professional requirement. It is a special institution based on neural biological science and art, located in The University of Western Australia, and is available for artists to visit and it offers the artistic residence programs.
4.2 Technology education in today's art college
Art education institutions similarly face these art practice changes. Many New-media departments are appearing in art colleges around the world to catch up with the step of new-media art, and technology education take an ever more significant position. In the example of Chinese art education, the majority of art colleges in China are beginning to found New-media departments. During the previous decade many are jumping past basic, what could be referred to as traditional art training, directly into the crossover area.
But, compared with other departments, which have relatively comprehensive teaching method formed from the long-term teaching practice, new-media department does not have systematic education way. There are many controversies about its course setting.
Take the example of Chinese art education institutions which I am more familiar with, lots of arts college do not really clear how to take the next step after setting up the new-media departments. Many of them are only focus on technology training. This reason of this problem relate the classification of departments in Chinese art education institutions, which are mostly set up based on the divide of media, for example, there are Water Painting Department, Oil Painting Department, Sculpture Department, etc. This kind of department' dividing way result Chinese art education easy falling into only technical limitation instead of the conception. (It cannot find a exact corresponding department in Chinese art subject education category of "Fine arts", because the "Fine Arts" department in western art college is more focused on the concept but not media. )
So, when the new technology appears as a new material, new-media departments are also rising up. However, dividing new department according to media, resulting the education focus of the new-media department is not the new education concept, but rather the purchase of new-technique equipments and technical training.
Today, except several big ahead art academies, like the Central Academy of Fine Arts and the China Academy of Art, the other art academies' new-media education project is still based on international guest tutors visiting a short period. However, the cultural communication needs relatively equal cultural subject, the stronger side has stronger ability to absorb and digest more. So, the key of education in new-media art department in China is to expand the academic communication, focus on latest art interdisciplinary research and how to put into practice during the communication process.
Even there are problems rising up in art education, but we cannot avoid them: Science and technique are a big inspiration for art. It is good to get new view about all the possibility of technology, which can inspire artists, especially the young artists who are trying to search new ways. Based on the question that if the new technology will be one of a base-education for art in future on young artist, I gave a interview with Ivo van Stiphout (new-media artist and technique tutor in Sandberg institute) about how his opinion on technology in today's art education. For particulars, see the attachment below this thesis.
4.3 Museums face the challenge of how to present and collect "Instable" art.
Most of New-media art festivals are last very short, about one or two weeks, compared with these Biennials or Triennials that could last half years, it really comes in a hurry. The reason is the media of new media art works are not stable compare with the art works using traditional media, like canvas or screen. For example, interactive art need special equipment and more professional service stuff during the exhibition; Bio-Art need specific exhibition condition, and etc. These new requirements force museums to face the issue that how to present and collect these new-media works, if they are exhibited for longer time in museum.
In another way, the artists should make sure their demands exactly: If their art works exhibit a longer time, how the museums manage and take care of the electronic parts, digital parts or living things in their works. (Usually, these new media works only show in the short time show, like electronic art festivals). So the challenge for the artists is that they need to be an expert in practical applicability and a interface designer, and tell the visitors how to interact with their works. The audience also needs to learn how to interact with the works initiatively, especially the adult are told "please don't touch", "please don't get close" in previous experiences. The artists and the museums should take all these challenges into consideration.
[1] http://en.wikipedia.org/wiki/Electronic_art
[2] Paul, C: Digital Art, page 67. Thames & Hudson Inc, 2003.
[3] The original Long March was a military retreat undertaken by the Red Army of the Communist Party of China, the forerunner of the People's Liberation Army, to evade the pursuit of the Kuomintang (KMT or Chinese Nationalist Party) army. The Communists, under the eventual command of Mao Zedong, escaped in a circling retreat to the west and north, which reportedly traversed some 12,500 kilometers (8,000 miles) over 370 days.
[4] A label created by French artist Jean Dubuffet to describe art created outside the boundaries of official culture. The English term "outsider art" is often applied more broadly, to include certain self-taught or Naïve art makers who were never institutionalized. Typically, those labeled as outsider artists have little or no contact with the mainstream art world or art institutions. Often, outsider art illustrates extreme mental states, unconventional ideas, or elaborate fantasy worlds.
[5] Bedoni, Giorgio; Tosatti, Bianca (2000),Arte e psichiatria. Uno sguardo sottile (Art and psychiatry. A thin look), Mazzotta, Milano
[6] The European Organization for Nuclear Research, known as CERN is an international organization whose purpose is to operate the world's largest particle physics laboratory, which is situated in the northwest suburbs of Geneva on the Franco–Swiss border. Established in 1954, the organization has twenty European member states. The term CERN is also used to refer to the laboratory itself, which employs just under 2400 full-time employees/workers, as well as some 7931 scientists and engineers representing 608 universities and research facilities and 113 nationalities.
[7]Clement Greenberg (January 16, 1909 – May 7, 1994) was an American essayist known mainly as an influential visual art critic closely associated with American Modern art of the mid-20th century.
[8] "Modernist Painting", by Clement Greenberg, Art & Literature, no.4, Spring 1963, pp.193-201.
[9] From 10th paragraph of Modernist Painting: "To achieve autonomy, painting has had above all to divest itself of everything it might share with sculpture, and it is in its effort to do this, and not so much -- I repeat -- to exclude the representational or literary, that painting has made itself abstract."
[10] Ars Electronica is an organization based in Linz Austria founded in 1979 around a festival for art, technology and society that was part of the International Bruckner Festival.
[11] "Sol" LeWitt (September 9, 1928 – April 8, 2007) was an American artist linked to various movements, including Conceptual art and Minimalism.
[12] The 32nd manifesto of "Sentences on Conceptual Art", 1967, by Sol Lewitt.